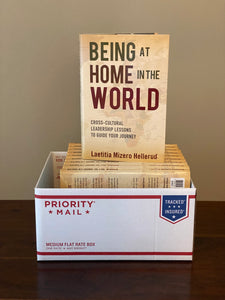 Aloha Publishing Bookstore
Being at Home in the World
Regular price
$180.00
$0.00
Unit price
per
by Laetitia Mizero Hellerud
We Can All Build on What Unifies Us
The "refugee stories" you may hear on social media or on broadcast channels often leave out the heartbreaking, unique accounts of the atrocities these people have actually faced. And yet refugees are not so different from those of us who haven't been forced to leave our native homes.
As a four-time refugee, change and adaptation has become a way of life for Laetitia Mizero Hellerud. Having to adapt to this way of thinking since childhood, she learned to rely on her own decisions and, at the same time, accept the love and help of others to survive. In Being at Home in the World, Laetitia shares what she has learned about adaptation--about finding your home--in the midst of chaos and struggle. It starts with an open mind and an open heart.
Every day, you have an opportunity to choose the life you want to live, leading others along the way, no matter what your circumstances are. Leadership is not just for those in the public eye. Before you can make good decisions, you need to know what's important to you. You must experience the outcomes resulting from your decisions before you can understand that you control your own happiness.
Lead your own life with confidence.
Praise for Being at Home in the World:
"Laetitia Mizero's journey from Burundi is a remarkable account of resilience. Her insights on culture and community help us to understand how a refugee integrates into the United States and create opportunities for other refugees to do the same." -- Linda Hartke, President and CEO, Lutheran Immigration and Refugee Service
"Reading Laetitia Mizero Hellerud's story is a reminder to never take your relationship with God for granted simply because your path has been easier. If she can choose joy in spite of the circumstances she has faced, there is no reason in the world I should choose anything less in my life, no matter what shows up to distract me. You will come to understand your own life circumstances and your own spiritual journey with greater depth and appreciation, thanks to the gift of her words." -- Jodee Bock, founder of Bock's Office Transformational Consulting; partner, Masterworks; author of the Own Your Story series and co-author of Don't Miss Your Boat and Inviting Dialogue
Product Details for Being at Home in the World:
Publisher : Aloha Publishing (August 22, 2017)

Language : English

Hardcover : 192 pages

ISBN-10 : 1612061435

ISBN-13 : 978-1612061436

Item Weight : 15.2 ounces

Keywords : Education, Immigration, International Studies
---