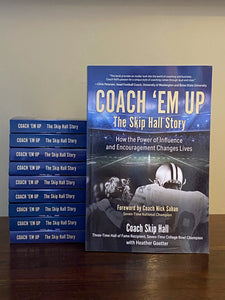 Aloha Bulk Bookstore
Coach 'Em Up
Regular price
$140.00
$0.00
Unit price
per
by Skip Hall
How the Coach Without a Father Became one of America's Greatest Mentors
Coach Merle "Skip" Hall grew up fatherless in a time when most other boys had fathers. He went on to coach dozens of NFL players, top college coaches, and even NFL coaches. This story of Coach Hall's life highlights the influence coaches have mentoring athletes as well as the power of coaching and recruiting for business. Everyone in a leadership role will be encouraged by the idea that positive coaching leads to success.

Once you learn the power of Coach 'Em Up, you will be able to:

Create consistent principles which lead to winning year after year
Avoid the guilt and chaos of negative leadership
Overcome the challenge of mediocrity
Empower leadership skills in other leaders, coaches, and colleagues
Overcome obstacles to success
Dispel the myth that positivity is a soft skill
Challenge the cultural norms
Learn about the power of Don James Thursday Speeches
Coach Hall coached and mentored football players with the likes of Mike Lude, Nick Saban, Don James, Jim Zorn, Chuck Pagano and other top coaches and leaders. This book is not just for members of the coaching community. It is a resource for teachers, employers, and even parents—for anyone that works with young people, helping them develop and grow.

As a bonus, Coach 'Em Up offers a resource section which can be used for pre-game speeches, pre season planning with coaches, vision blueprints, and ideas for annual team themes.
Praise for Coach 'Em Up:
"This book provides an insider look into the world of coaching and business. Coach Hall's passion for a unique style of coaching comes through loud and clear." -- Chris Petersen, Head Football Coach, University of Washington and Boise State University
"Skip Hall's performance speaks for itself. His leadership inspires and influences all who are lucky enough to know him. He always went above and beyond to encourage his players and fellow coaches." -- Nick Saban, Head Coach, University of Alabama, seven-time National Champion
"Coach Hall wanted our football team to take on a new identity and culture, a culture of positivity and building relationships. He wanted a culture of accountability that was done the right way—not belittling but building each other up." -- Chuck Pagano, NFL Head Coach, Indianapolis Colts
"It is a true honor to recommend this book. One of the great joys of my life was to play linebacker for the University of Washington Huskies and to be coached by Skip Hall. Not only did he inspire, challenge, and motivate us on the field, he mentored and taught us how to be men of character." -- Mike Rohrbach, Founder and Executive Director of Run to Win, Team Captain of University of Washington football, University of Washington Sports Chaplain
"Don James looked for young energetic coaches with good character. He found that in Skip Hall, who was always kind to everyone and took positive coaching seriously in an era where other football programs weren't always focused in that direction." -- Carol James, wife of legendary coach Don James
"Skip has been a phenomenal coach with an infectious personality since the beginning of our acquaintance in the 1960s. He also proved to be a sensational recruiter over the many years that I have known him. Everyone will learn something from his story." --Mike Lude, former Athletic Director University of Washington
Product Details for Coach 'Em Up:
Publisher ‏ : ‎

 

Aloha Publishing (September 9, 2021)

Language ‏ : ‎

 

English

Paperback ‏ : ‎

 

288 pages

ISBN-10 ‏ : ‎

 

1612062377

ISBN-13 ‏ : ‎

 

978-1612062372

Item Weight ‏ : ‎

 

1.1 pounds

Dimensions ‏ : ‎

 

6 x 0.65 x 9 inches
---