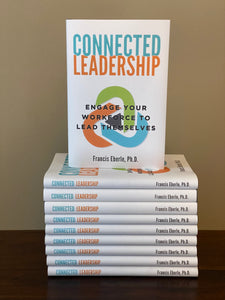 Aloha Publishing Bookstore
Connected Leadership
Regular price
$180.00
$0.00
Unit price
per
by Francis Eberle
Connected Leadership Builds and Enables Effective Teams
Leadership is not a solo occupation. Your people have knowledge and experience you don't have, and you need to tap into their expertise if you want your organization to survive and flourish. To succeed in the competitive, rapidly changing business ecosystem that's happening around us, you must take a more collaborative approach to leadership. Engage your people and empower them by sharing leadership, goal-setting, and authority—in other words, effectively connect with your team.
Connected Leadership will show you:
--Why connected leadership is the future of organizations
--How to set goals that engage everyone on the team
--How to know as a leader when to step up or step back
Learn to share the decision-making process and get team buy-in through collaboration. When you share leadership with your team, you engage the power of collaboration and enable your team to lead themselves.
Francis Eberle, Ph.D., has spent more than 25 years as an executive for nonprofit organizations and startups. He uses his authority to support others, build capacity, encourage resolution, and solve problems. He is a team dynamics specialist, helping leaders reflect on their own experiences and knowledge to grow and change their worlds. He lives with his family and wonderful dog near the ocean in Maine.
Praise for Connected Leadership:
"Leadership skills must evolve to engage our cross-generational workforce teams to achieve business goals. The Connected Leadership model will guide leaders through the leadership evolution." -Connie Yuen, Vice President of Finance, GreatHorn, Inc.
"In Connected Leadership, Francis Eberle goes beyond simply highlighting the value of collaborative, servant leadership-he offers practical guidance on how leaders can effectively connect with their teams and stakeholders." -Brian MacLeod, Head of Specialized Service, Wayfair
"Strong relationships help you tap into a diverse matrix of thoughts, making you a more competent and confident leader who can effectively lead others to their purpose. A clear purpose will engage the power of the team." -Gretchen McDade, Vice President/General Manager, Sales, Constellation Brands
"Each decision a leader makes has a ripple effect. Connected Leadership clarifies the benefits to an organization of a collaborative leader who works in a connected fashion. This skill is essential for all leaders." -Mark R. Proctor, M.D., Neurosurgeon-in-Chief, Boston Children's Hospital, Franc D. Ingraham Professor of Neurosurgery, Harvard Medical School
"Francis Eberle gets at the heart of collaborative leadership with authenticity and simplicity. It is a must read to succeed in our planned collaborative efforts with others." -Sadhana Hall, Deputy Director, Nelson A. Rockefeller Center for Public Policy and the Social Sciences
Product Details for Connected Leadership:
Publisher : Aloha Publishing (December 10, 2020)

Language : English

Paperback : 208 pages

ISBN-10 : 1612062245

ISBN-13 : 978-1612062242

Item Weight : 11 ounces

Dimensions : 6 x 0.52 x 9 inches

Subjects : Business Culture, Knowledge Capital, Business & Organizational Learning
---