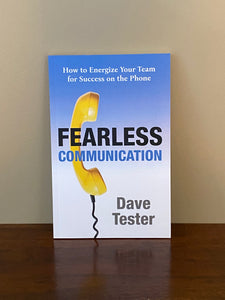 Aloha Publishing Bookstore
Fearless Communication
Regular price
$150.00
$0.00
Unit price
per
by Dave Tester
Fix the Leaky Sales Bucket
What's the point of investing thousands of dollars to build a business if your front desk team loses customers at "Hello"? Don't let your leads and customers run away--it's time to fix the leaky bucket of phone service and first impressions once and for all.
The first step is easy. Following the scripts and tools outlined in this book, your team members will be able to easily communicate with any prospect or customer on the phone, book appointments that stick, get five-star reviews from customers, and handle any situation with confidence. The methods detailed here set up your team members to win.
Far too many customers, leads, and prospects are draining out the holes in the bottom of your bucket. We can help you fix the leaky bucket.
The secret to Dave Tester's coaching, consulting, and speaking success comes from his extensive background in sports journalism and coaching hundreds of business clients. A dedicated student of the great trainers, Dave has developed a tried-and-true system for networking and deal-making that positively changes how companies sell products and services.
Praise for Fearless Communication:
"Dave Tester is a genius at what he does. His method will take pressure off your team, provide results (our appointments increased by over 35%), and your marketing ROI will shoot through the roof." --Shaun Buck, CEO, The Newsletter Pro
"Hands down, the best method to book appointments and increase revenue. My clinic has used Dave's system for a year, and the revenue difference is astounding." --Dr. Derrick Nelson, owner, Town & Country Veterinary Clinic
"In the six years Dave has worked with our team, sales have increased over 200%. His ability to adapt his training to each team member's needs was an overwhelming success." --Chris Spates, co-founder and managing partner, Benefit Bank Distributors, Inc.
Product Details for Fearless Communication:
Publisher : Aloha Publishing (September 29, 2020)

Language : English

Paperback : 104 pages

ISBN-10 : 1612062075

ISBN-13 : 978-1612062075

Item Weight : 4.7 ounces

Dimensions : 5.5 x 0.24 x 8.5 inches

Subjects : Sales Training, Business Communication, Business Etiquette 
---