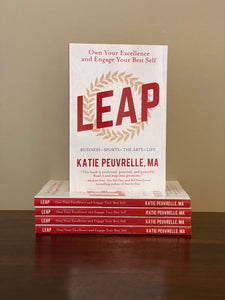 Aloha Publishing Bookstore
Leap
Regular price
$150.00
$0.00
Unit price
per
by Katie Peuvrelle
Deliver Your Best Performance Yet
Leap can take you somewhere you've never been. Katie Peuvrelle's unique perspective on performance psychology is thought provoking and insightful, deep yet simple. It evokes a focused curiosity for truth--your truth.
You're an athlete, an entrepreneur, a creative, a thought leader, a professional, or a tech executive and you crave more.
Leap gives you powerful tools to surpass your goals in any area:
-Claim your own brand of executive leadership
-Be the finest athlete you can imagine
-Take your professional performance to the next level
-Propel your business to new heights
-Bring depth to your relationships

Katie Peuvrelle is a dynamic performance coach who guides high performers to find deep joy, professionally and personally, when they discover their own brand of excellence. For over 30 years, she has coached a diverse clientele, from driven tech executives, highly creative authors, Ivy League-bound students, and professional athletes. She inspires them to discover their true selves and infuse their work and lives with authentic excellence. 
With Leap as your high-performance guide, discover what truly moves and inspires you. You can decide to trust the unknown and dare to step into your full capacity and unbridled joy, once and for all. You can just leap.
Praise for Leap:
"This book is profound, practical, and powerful. Read it and leap into greatness." --Michael Port, New York Times and Wall Street Journal bestselling author of Steal the Show
"I've known Katie since our childhood days on the ice, and what I value most about her and her book, Leap, is her passion for excellence and authenticity. It comes through on every page." --Brian Boitano, Olympic gold medalist, men's figure skating
"Leap is an inspiration, a work of art . . . and heart." --Peter Bogdanovich, Director of "The Last Picture Show," nominated for eight Oscars, winner of two
Product Details for Leap:
Publisher : Aloha Publishing (October 30, 2017)

Language : English

Paperback : 176 pages

ISBN-10 : 1612061397

ISBN-13 : 978-1612061399

Item Weight : 9.4 ounces

Dimensions : 5.98 x 0.41 x 9.02 inches

Subjects : High-Performance Coaching, Performance Psychology, Executive and Team Caching
---