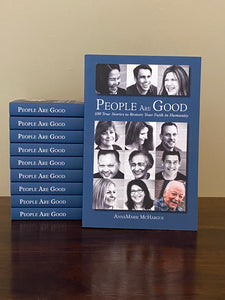 Aloha Publishing Bookstore
People are Good
Regular price
$150.00
$0.00
Unit price
per
by AnnaMarie McHargue
It Doesn't Take Much to Make the World a Better Place
People Are Good is a collection of stories that unites us all. In today's world, it is easy to focus on what is going wrong instead of what is good and going right. Small acts of kindness are really the big things that change our outlook and ultimately change the way we live in the world. This global movement is sure to restore your faith in the human spirit and remind us that little things are a big deal.
Why People Are Good has such impact:
Demonstrates the

power of human empathy

and the wonderful influence it can have on others.

Emphasizes the idea that in spite of vast differences, as human beings, we all appreciate the

smallest acts of kindness

.

Creates an understanding that small moments in people's lives

change the course

of their existence.
The news media and blogosphere flourish with examples of the human capacity for power and poverty, life and death, success and sadness. The mission of People Are Good is to inspire each of us to want to take small moments in life to act, rather than react. It's more than random acts of kindness but a lifestyle of noticing others, sharing a smile, and ultimately changing someone's worldview for the rest of their life.
AnnaMarie McHargue's passion for beautiful words is something she loves to share with the reading public. She and her sister, Anita Stephens, co-founded their company, Words with Sisters, with the mission of partnering with authors who wish to offer positive messages and inspiration through their work. For Anna and Anita, their grandfather is the embodiment of spreading good while touching the lives of people every day. Wanting to capture this incredible passion for people and life, the sisters compiled stories for People Are Good with the hope of spreading the warmth and joy their grandfather offered so freely throughout his life.
Praise for People Are Good:
"Why is it that human beings always tend to focus on the 10 percent of what's wrong in the world and overlook the 90 percent of what's great? People Are Good draws our attention back to the fundamental truth that there is much goodness and light in the hearts of so many."
—Mark Traylor, author of Radicalizing Peace: How Your Good, Small, Faithful Steps Can Change the World
Product Details for People Are Good:
Publisher : Aloha Publishing (October 23, 2017)

Language : English

Paperback : 264 pages

ISBN-10 : 1612061494

ISBN-13 : 978-1612061498

Item Weight : 13.8 ounces

Dimensions : 6 x 0.66 x 9 inches

Subject: Body Mind Spirit, Inspirational/Nonfiction, Personal Development
---