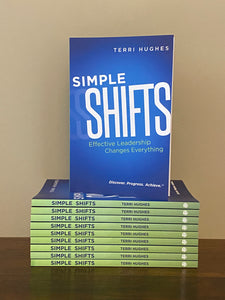 Aloha Publishing Bookstore
Simple Shifts
Regular price
$150.00
$0.00
Unit price
per
by Terri Hughes
Discover. Progress. Achieve.
Leadership edge: It's a noisy world and there is a blaring cry for effective leadership. Today's leaders are faced with big challenges. They're looking for better ways to engage and lead their teams because they know effective leadership changes everything.
Here at last a new approach to learning to lead. In her exciting new book, national leadership expert Terri Hughes presents a method she has crafted over nearly 27 years as a leadership coach, advisor and now author.
All of us have the potential for success and effective leadership inside us. But before you can effectively lead others, you must understand your own strengths and weaknesses. Fear, doubt and resistance to change often block our growth. In her 27 years working with leaders, Terri Hughes has learned that the catalyst for effective leadership and personal development is self-awareness. It's that simple. The best leaders are the ones who try new things, new approaches. They innovate and make simple shifts or practical changes for big results.
Terri writes: "It's not about how smart or experienced we are as leaders that create our success. It's about how self-aware we are and how well we observe ourselves in action to allow us to adopt approaches that give us the results we want."
Feedback from some of Terri's success stories:
Dan, a financial analyst who was qualified to take on more responsibility, was overlooked for a promotion due to his actions and communication approaches. His behavior prevented him from managing effectively. He was the kind of boss no one would want: he micromanaged his team, failed to listen and thought he was always right.
A simple shift made all the difference: It turned out that Dan was modeling his managerial style from previous, ineffective leaders, and ignored the leadership skills he displayed while coaching his kids sports teams. He couldn't be at his best because he was focused on being someone else's idea of a good leader. Dan had a "eureka" moment and over a few short months became self-aware, realizing he could integrate "coach Dan" and "manager Dan". Dan got a promotion to a chief financial officer position within another division of his large company. He also got something even better than a title: confidence to be his true self. Dan says: "I'm so much happier and less stressed being one Dan instead of two. Terri helped me come out of my shell. I'm now more optimistic and open to different ways of accomplishing objectives."
Jamie was promoted from a project manager to a manager of people, shifting her focus from her own individual contributions to achieving results through her team. It was a big change in a large services provider organization, prompting her to develop an effective leadership style. It's a significant stretch to move from managing tangible tasks to leading a team of project managers.
Through a series of one-on-one sessions and exercises, Jamie let go of trying to manage the details of every project and instead focused on effectively guiding her new team to take on those tasks. Jamie learned how to shift her approach by asking good questions instead of telling others what to do, and allowing her team to discuss and create solutions they can all learn from. She spends more time looking ahead and removing barriers, and celebrates her team's successes. Jamie realized, "An indicator of my success as a manager is how well I'm working myself out of a job by providing continual opportunities for others to own processes, decisions, projects and approaches."
Jamie says this about Terri's approach: "Terri asks thought-provoking questions while providing supportive, positive guidance and feedback. She doesn't insist on a single approach or answer but practices what she espouses, focusing on people's strengths and helping them consider workable solutions, and then following up to assess the results." 
Product Details for Simple Shifts: 
Publisher : Aloha Publishing (April 2, 2014)

Language : English

Paperback : 144 pages

ISBN-10 : 1612060692

ISBN-13 : 978-1612060699

Item Weight : 8.8 ounces

Dimensions : 6 x 0.25 x 9 inches

Subject: Leadership, Motivation, Business Consulting
---