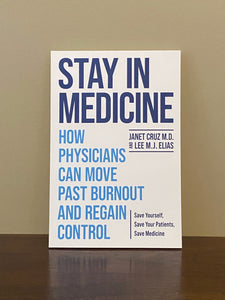 Aloha Publishing Bookstore
Stay in Medicine
Regular price
$150.00
$0.00
Unit price
per
by Janet Cruz M.D. and Lee M.J. Elias
We Can Save More Lives If We Save Each Other
This book was written by a female physician, Air Force doc, mother of two, and native Puerto Rican who has a mission to save medicine as we know it in the United States. We all need to be involved in saving the careers and livelihoods of physicians to preserve the quality of life we enjoy in North America. 
Doctors, we know all about long hours, overwhelming workloads, lack of support from the healthcare system, and the loss of control in many aspects of our lives. Physicians and healthcare systems are at a precipice. It's time we have a serious conversation about where we want to go together.
Stay in Medicine is a boots-on-the-ground guide full of practical tips to help you improve day-to-day life in your clinic and begin the conversation to change healthcare as an industry.
Here are some of the tools you'll find to help you breathe again: 
How to identify and handle burnout, both for yourself and for your colleagues

Strategies to help you regain a sense of control

Simple methods to reduce time-killers

Proven team-building and leadership tactics improve collaboration in your clinic

Talking points to begin the larger conversation to change healthcare as a whole
Save Yourself,
Save Your Patients,
Save Medicine.
Product Details for Stay in Medicine:
Publisher : Aloha Publishing (March 22, 2021)

Language : English

Paperback : 168 pages

ISBN-10 : 161206230X

ISBN-13 : 978-1612062303

Item Weight : 9.6 ounces

Dimensions : 6 x 0.38 x 9 inches

Subjects : Medical Ethics, Family Practice Medicine, Organizational Leadership
---