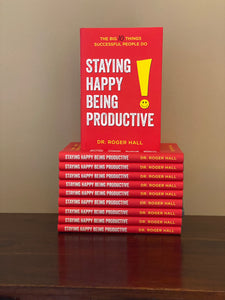 Aloha Publishing Bookstore
Staying Happy, Being Productive
Regular price
$180.00
$0.00
Unit price
per
by Dr. Roger Hall
You Are in Charge of Your Success
What could you accomplish if you were more productive every day? Are you living the happy and successful life you want? Do you struggle to make the changes necessary to achieve your goals? Staying Happy, Being Productive gives you the tools you need to transform your life.
Business psychologist Dr. Roger Hall has worked with highly successful people for over 25 years. Through his observations, he has discovered a pattern of habits that work as a foundation for their success and happiness. These Big 10 habits relate to the 10 aspects of your life that lead to either success or dysfunction.
Staying Happy, Being Productive teaches you to monitor these aspects and gives you practical tools and techniques to make improvements--and the key is addressing one thing at a time.
Praise for Staying Happy, Being Productive:
"Can one book change your life? This one can!"
--Dr. Cory S. Fawcett, author of the best-selling Doctors Guide series and founder of Prescription for Financial Success
"Dr. Roger Hall explains how successful people get where they are: emphasize the basics, create good habits, and focus on improving one thing at a time."
--Claudia Fernandez, DrPH, M.S., R.D., LDN, Co-Director of the Robert Wood Johnson Foundation Clinical Scholars Program, and Associate Professor, UNC-Chapel Hill
"Life can be knocked out of balance in so many ways. Roger Hall gives a simple self-assessment tool for evaluating the Big 10 factors. He has seen clients make small changes that produce great improvements in happiness and productivity."
--Gary Warner, Director of Research in Computer Forensics, University of Alabama at Birmingham
Product Details for Staying Happy, Being Productive:
Publisher : Aloha Publishing (May 21, 2019)

Language : English

Hardcover : 152 pages

ISBN-10 : 1612061850

ISBN-13 : 978-1612061856

Item Weight : 13.6 ounces

Subject: Professional Development, Human Resources, Executive Leadership
---