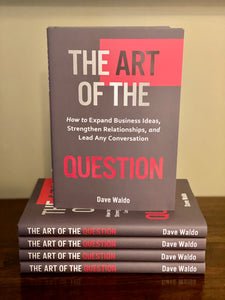 Aloha Publishing Bookstore
The Art of the Question
Regular price
$180.00
$0.00
Unit price
per
by Dave Waldo
Grow Revenue Through the Power of Questions
The best leaders aren't those who have the right answers--they're the people who ask the best questions. 
Questions are essential to build relationships, to solve problems, and to learn and grow. But most people haven't been taught to question well and don't understand the power of good questions. If you've ever aspired to be an effective board member, massively grow your business, or improve your relationships with family members, The Art of the Question contains the tools to make this happen.
Dave Waldo has been practicing the art of the question in boardrooms for the last three decades and has been called a "board whisperer." As CEO of Waldo Agencies, Dave works with family businesses to control risk and assist in business transitions that often require families to work together for a successful transition. Dave's curiosity and continual practicing of his question-asking skills have helped him make many friends across North America, Europe, and Asia and led him places across the globe he never expected to go.
Armed with the wisdom of this book, you will learn how to:
Confidently engage with anyone, in any situation

Never feel over your head in professional interactions

Get through challenging conversations with less stress

Lead family discussions that might otherwise be chaotic and dysfunctional

Bring extraordinary value to every conversation through questions rather than answers
Praise for The Art of the Question:
"Dave Waldo has a way of framing questions that helps everyone understand what's important and opens people's minds to find new solutions." --Eric Nelson, CPCU, ARP; President and CEO, Mutual of Enumclaw Insurance Company
"The art of the question can transform lives, families, careers, communities, companies, organizations, and philanthropic efforts." --Andy Fujimoto, independent board member and retired CEO
"This book will change the way you see your everyday interactions. It should be required study for anyone in business." --Brandon M. White, President, The Ambassador Group
Product Details for The Art of the Question:
Publisher : Aloha Publishing (May 20, 2021)

Language : English

Hardcover : 176 pages

ISBN-10 : 1612062326

ISBN-13 : 978-1612062327
---