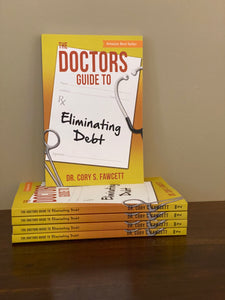 Aloha Publishing Bookstore
The Doctors Guide to Eliminating Debt
Regular price
$180.00
$16.95
Unit price
per
by Dr. Cory S. Fawcett
Doctors - You don't have to carry lifelong debt!
The Doctors Guide to Eliminating Debt will show you how to pay off debt faster than you imagined—including your house. Too many doctors carry perpetual debt and give away a large chunk of each paycheck as interest. Being in debt is not a default condition. It's not too late to change the course of your financial life. Being debt-free is empowering, liberating, and invigorating, but most doctors don't realize they can do it without significant sacrifice.
If you are feeling trapped by your financial obligations, realize there is a way out. In this book, you'll find what you need to know to:
Stop drowning in debt in four easy steps

Pay off student loans and your house—faster than you expected

Recognize biased financial advice

Balance spending, loan repayment, and investing

Make compound interest work for you, instead of against you

Retire sooner than you expected
This second book in The Doctors Guide series shows you how to establish control of your money—and ultimately your life. Take a look inside this book to see how it can help you navigate your way out of debt.
"Repurposed" general surgeon Cory Fawcett has a mission to eliminate burnout, debt, and bankruptcy among physicians, dentists, optometrists, nurse practitioners, and others in the healthcare industry through keynote speaking, writing, and one-on-one coaching. Throughout his career, he's been passionate about teaching personal finance to help doctors live healthy, happy, and debt-free lives and regain control of their practices, their time, and their finances. Dr. Fawcett is a consultant, speaker, award-winning author, and entrepreneur, and has been an owner, founder, or partner in more than two dozen business and real estate ventures.
Praise for The Doctor's Guide to Eliminating Debt:
"The best way I can describe this book is Dave Ramsey for doctors . . . If you're a high-income professional and you have debt of any kind, I think you ought to read this book." —James M. Dahle, MD, The White Coat Investor
"I wish I had read this way earlier in my journey to learn about finances… I highly recommend it to anyone trying to get started with understanding money." –The Frugal Physician
"Do yourself a favor and let Dr. Fawcett's excellent book be your guide to get out from the financial hole you found yourself in." –The Wealthy Doc
Product Details for The Doctor's Guide to Eliminating Debt:
Publisher : Aloha Publishing (September 24, 2016)

Language : English

Paperback : 170 pages

ISBN-10 : 1612061249

ISBN-13 : 978-1612061245

Item Weight : 8.3 ounces

Dimensions : 6 x 0.39 x 9 inches

Subjects : Personal Finance, Healthcare/Medical, Higher Education
---