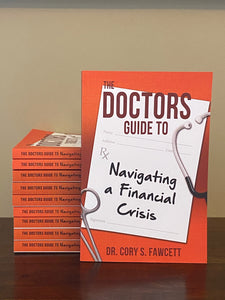 Aloha Publishing Bookstore
The Doctors Guide to Navigating a Financial Crisis
Regular price
$180.00
$0.00
Unit price
per
by Cory S Fawcett
Navigate your financial crisis and emerge stronger than before.
A financial crisis can happen to anyone at any time. The most important thing is not to let fear and despair paralyze you and keep you from taking action. Many have come back stronger than they were before their crisis, and so can you. This book will teach you to accurately assess your situation, evaluate your options, and make a workable plan for recovery.
It's time to take the next right move with your finances:
Assess your finances, skills, and connections

Learn the best ways to deal with debt

Know what not to do with your emergency fund

Understand your options in bankruptcy

Preserve your relationships and find your road to recovery 
Dr. Cory S. Fawcett is a consultant, speaker, award-winning author, entrepreneur, and repurposed general surgeon. His passion for teaching personal finance and helping doctors lead happy and debt-free lives spans his entire career. His mission is to eliminate burnout, debt, and bankruptcy among physicians, dentists, and others in the healthcare industry through keynote speaking, writing, and one-on-one coaching. He wrote this book to help everyone successfully navigate a financial crisis.
Praise for The Doctors Guide to Navigating a Financial Crisis:
"This is the definitive guide for any professional facing a financial emergency. Take a deep breath, buy this book, and read it cover to cover—I guarantee your outlook will be much improved, and you will have a solid framework to tackle what lies ahead."—Joseph Russell, M.D.
"Because I recently filed for bankruptcy, this book was refreshing. I initially felt like a failure. Thank you for the empathy displayed throughout." —Sasha Taylor
"I love that Cory Fawcett incorporated personal experiences." —Jeff Wiencek, M.D.
"I really enjoyed this book! Hard-nosed meets heartfelt." —Joan Hill
Product Details for The Doctors Guide to Navigating a Financial Crisis:
Publisher : Aloha Publishing (June 15, 2020)

Language : English

Paperback : 242 pages

ISBN-10 : 1612062024

ISBN-13 : 978-1612062020

Item Weight : 13.5 ounces

Dimensions : 6 x 0.55 x 9 inches

Subject: Personal Finance, Knowledge Capital, Money Management
---