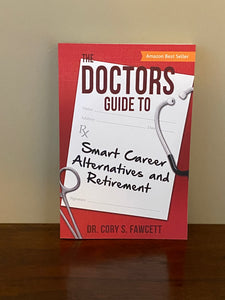 Aloha Publishing Bookstore
The Doctors Guide to Smart Career Alternatives and Retirement
Regular price
$180.00
$0.00
Unit price
per
by Dr. Cory S. Fawcett
Escape Call. Live Well. Enjoy Your Work.
Are you a physician fed up and ready to leave your healthcare career? It doesn't have to end that way. In The Doctor's Guide to Smart Career Alternatives, Dr. Cory S. Fawcett lays out a number of smart alternatives and ways to repurpose your professional career so you can continue doing what you love about medicine and stop doing what you don't.
If you are ready to leave medicine, read this book before you make your move.
Uncover your motivation for wanting a change

Find a new career that utilizes your existing skills and experience

Learn from the experiences of other doctors in clinical and nonclinical careers

Know the ins and outs of semi retiring or fully retiring from the practice of medicine

Understand passive income and how to handle your finances in retirement
This third book in The Doctors Guide series shows you how to escape the pressure and burnout of typical healthcare careers and gives you a number of practical career options to apply your medical skills in ways you've probably never thought of.
"Repurposed" general surgeon Cory Fawcett has a mission to eliminate burnout, debt, and bankruptcy among physicians, dentists, optometrists, nurse practitioners, and others in the healthcare industry through keynote speaking, writing, and one-on-one coaching. Throughout his career, he's been passionate about helping doctors live healthy, happy, and debt-free lives and regain control of their practices, their time, and their finances. Dr. Fawcett is a consultant, speaker, award-winning author, and entrepreneur. He has been an owner, founder, or partner in more than two dozen business and real estate ventures.
Praise for The Doctors Guide to Smart Career Alternatives and Retirement:
"The decision to stop being a doctor is not to be taken lightly. I recommend this book to anyone who is strongly considering retirement or a career transition." —Physician on FIRE
"A great book for the doctor who is less than satisfied with his current career. I highly recommend it." —James M. Dahle, MD, The White Coat Investor
Product Details for The Doctors Guide to Smart Career Alternatives and Retirement:
Publisher : Aloha Publishing (June 6, 2017)

Language : English

Paperback : 238 pages

ISBN-10 : 1612061206

ISBN-13 : 978-1612061207

Item Weight : 11.4 ounces

Dimensions : 6 x 0.54 x 9 inches

Subject: Personal Finance, Healthcare/Medical, Higher Education
---