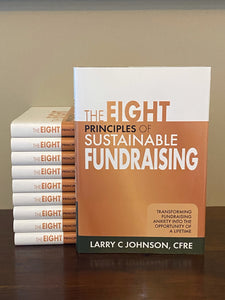 Aloha Publishing Bookstore
The Eight Principles of Sustainable Fundraising
Regular price
$150.00
$0.00
Unit price
per
by Larry C. Johnson
Fundraising is about people; not about money.
Whether you're a novice volunteer, board member or professional fundraiser, you face the daunting challenge of meeting fundraising goals and no amount of passion, energy or hard work can replace the fact that money is needed to fuel your organization's growth. So how do you raise money to expand your organization?
This book is for anyone whose initial reaction when confronted with the task of raising money for their charitable passion is a mixture of anxiety and bewilderment. With a straightforward and accessible approach, Eight Principles walks the reader through eight steps that help reshape their fundraising approach and processes. Eight Principles empowers fundraisers, both volunteer and professional alike, to see donors as people like themselves who want to invest in a worthwhile cause or organization.
Using real-life case studies from the author's extensive experience, along with an original assessment tool, Eight Principles shows charitable organizations where they are with respect to fundraising and how to get to where they want to be. With a candid and engaging narrative, Eight Principles stresses the relational aspect of philanthropy and, in doing so, provides the keys to transforming fundraising anxiety into effective nonprofit leadership and fundraising success.
By applying these Eight Principles, nonprofits can make real changes now that will permanently affect their fundraising futures to ensure success in the long term.

Praise for The Eight Principles of Sustainable Fundraising:
"As we all know but often forget, transformational fundraising is about building a renewable base of supporters. Follow Johnson's Eight Principles and you will experience enhanced success in your fundraising. You will also enjoy reading the book." --Dr. Lee G. Royce, board member, National Association of Independent Colleges and Universities; president, Mississippi College.
"Johnson provides on target, practical and proven insights into both the art and science of fundraising. Every nonprofit board member and executive should read this book to get excited about cause driven, storytelling fundraising." --Jim Everett, CEO, Treasure Valley YMCA
"I think any development professional who wants to involve their Board in the fundraising process should read each chapter of this book twice, then ask every member of their Board to read each chapter twice. " --Stuart B. Weiser, CFRE, VP of development, marketing & communications, Idaho Youth Ranch 
"The Eight Principles of Sustainable Fundraising uncovers common fundraising missteps and illuminates the actions that lead to the heart of giving. Larry's a true gem in the world of philanthropy." --Jennifer Deroin, branch president, VP, Intermountain Community Bank
 "As a member of several nonprofit boards, being an effective fundraiser is my biggest challenge. Johnson provides simple, pointed, hard-hitting advice that has taken my fundraising to a whole new level...and made my job easier!" --Chris C. Taylor, CEO, Fisher's Document Systems
"This book is an easy to understand and strategic guide to the basic principles of successful fundraising and donor cultivation. If the principles become standard practices, it will not matter the size of the nonprofit organization fundraising objectives will be achieved. The focus will shift from programs and events to the power of relationships and partnerships." --Barb Bowman, VP ministry advancements, Mission Aviation Fellowship
"The Eight Principles of Sustainable Fundraising makes a convincing case for engaging donors as the key to fundraising success. Eight Principles uses scenario thinking to ask readers to assess their giving habits as a donor. This approach makes the book enjoyable and builds the confidence of those new to the profession. If you think the best way to raise $10,000 is to ask 100 people for $100 or your focus is on ratings from GuideStar and Charity Navigator, think again. Read The Eight Principles of Sustainable Fundraising!" --M. Starita Boyce Ansari, Ph.D. – MSB philanthropy Advisors, LLC
Product Details for The Eight Principles of Sustainable Fundraising:
Publisher : Aloha Publishing (December 9, 2011)

Language : English

Hardcover : 176 pages

ISBN-10 : 1612060226

ISBN-13 : 978-1612060224

Item Weight : 13.6 ounces

Dimensions : 6.5 x 0.75 x 9.25 inches

Keywords : Nonprofit Organizations, Charities, Business Skills
---