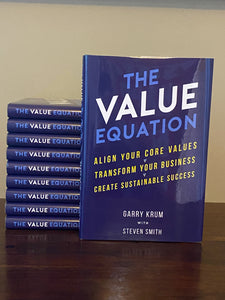 Aloha Publishing Bookstore
The Value Equation
Regular price
$180.00
$24.95
Unit price
per
by Garry Krum
Is your business a reflection of your core values? 
If not you're missing a golden opportunity to grow your margins, engage your team, and transform your business into a labor of love.
The Value Equation will clarify your reason for being in business to yourself, your vendors, and your customers. As a result, you'll create a business that pulls people in, instead of something you have to push.
Put an end to being bogged down with the day to day details in your business and not getting to do what you love. The insights and practical applications found in The Value Equation can lead you to a more fulfilling work life and set you on a course for creating sustainable success. 
Garry Krum is the founder and president of Agora Strategic Consulting and Agora Workshops Inc. Garry has 37 years of experience with public and private strategic merger and acquisition consulting. He has lent his entrepreneurial expertise at the Colorado State University School of Business. Garry lives in Fort Collins, Colorado, with his wife, Mary, and enjoys traveling, hiking, climbing, and skiing with his family. 
Steven Smith is a Senior Strategic Advisor for Agora Strategic Consulting and Agora Workshops Inc. As a CPA and DoD acquisition professional, his three decades of experience as a finance manager within the Navy gives him vast expertise as he works with companies to create sustainable success. Steven earned his MBA from UCLA, his M.S. at the Naval Postgraduate School, and a master's degree in national security and strategic studies from the Naval War College. He lives in Cheyenne, Wyoming, with his wife, Corinne, their German Shepherd puppy, and two horses.
Praise for The Value Equation:
"The ancient Greeks talked about needing a balance between our personal life and our service/vocational lives The Value Equation is densely packed with substance on how to achieve this balance. If you're smart, you already know that there are no formulas and running a successful organization of any kind takes hard work. As a good leader, you must have not only a good vision, you must be able to paint a picture of success, which is easier said than done. This book is an excellent tool and well worth your time." --Vice Admiral (ret.) Phillip Wisecup
Product Details for The Value Equation:
Publisher : Aloha Publishing (February 6, 2018)

Language : English

Hardcover : 176 pages

ISBN-10 : 1612061532

ISBN-13 : 978-1612061535

Item Weight : 14.4 ounces
---