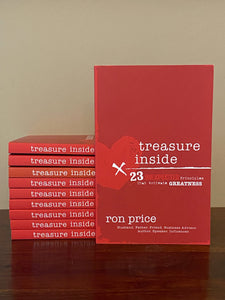 Aloha Publishing Bookstore
Treasure Inside
Regular price
$150.00
$0.00
Unit price
per
by Ron Price
Greatness lies within you.
It is there . . . waiting for you to discover it.
Internationally recognized author, speaker, and business advisor Ron Price has discovered the secret to human potential. With startling clarity, he explains 23 activating principles that will unlock the treasure that is already inside each of us. Ron approaches issues of the mind, heart, body, and spirit with a fresh, balanced perspective, while driving you toward that grand ideal—discovering the greatness within.
Inspirational, practical, and thought provoking, Treasure Inside's true value is in helping you recognize that these great treasures reside inside you. In the process of discovering them, you are engaging the greatest pursuit of all: embracing your own highest potential. Discover these 23 principles—from the sanctity of silence to the power of faith—and let Treasure Inside be a catalyst for leading a life extraordinary.
Ron Price is an internationally recognized business advisor, speaker, and author, as well as the CEO and founder of Price Associates. Known for his creative and systematic thinking, business versatility, and practical optimism, Ron has worked in 18 countries and served in many executive positions over the past 45 years. He is the author of Growing Influence (with Stacy Ennis), The Complete Leader (with Randy Lisk), The Complete Leader Companion, and The Innovator's Advantage (with Evans Baiya, PhD).
Praise for Treasure Inside:
"Ron Price is a master at distilling wisdom into process. This is a modern classic for maximizing effectiveness."
--Michael Boerner, Founder of Unity Corporation
Product Details for Treasure Inside:
Publisher : Aloha Publishing (October 28, 2011)

Language : English

Paperback : 184 pages

ISBN-10 : 1612060218

ISBN-13 : 978-1612060217

Item Weight : 8.5 ounces

Dimensions : 5.5 x 0.46 x 8.5 inches

Subject: Business Education 
---