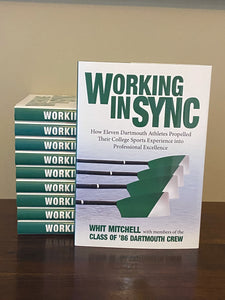 Aloha Publishing Bookstore
Working in Sync
Regular price
$180.00
$24.95
Unit price
per
by Whit Mitchell
Professional success comes through team effort.
Finding success in organizations and life is not a solo effort. It's created through working together, working in sync with colleagues, clients, and valued friends or family members. Through this reciprocity, small ideas grow into big plans, local efforts have a global impact, and productive managers become great leaders. When you have the tools to generate the combined effort of your team in a unified direction, you develop the power of leading without a title and getting greater results through coordinated efforts.
Working in Sync tells the stories of eleven highly successful professionals who learned the principles of connection and teamwork on the Dartmouth class of '86 crew under coach Whit Mitchell--Malcom McIver, Hans Stander, Garth Mark, Scott Sandell, Wolf-Dietrich Weber, Mike Rich, Sam Kinney, Charlie Peterson, Sam Hartwell, Dan Kollmorgen, and Mark Proctor. After a twenty-five year team reunion, Whit wanted to find out the secret to their professional success. He conducted months of one-on-one interviews, uncovering outstanding insights on excellence in life and business.
These interviews produced staggering results. Whit discovered that each of his former rowers had found professional success at a high level. They had each taken very different routes along the way, but they had all been able to reach the height of professional excellence in their various fields. Each rower also credited his success to the basic skills and principles gleaned from his time on Whit's crew. Whit Mitchell immediately saw the connection to be made with his own executive coaching clients to find their own measure of professional success.
Now, using the same lessons that propelled these rowers, Whit Mitchell has created Working in Sync to share them with you.
Read the inspiring stories of these eleven outstanding individuals and discover:
A new definition for professional success and how to achieve it regardless of background or position in a company. By redefining success, you will be able to tailor it to your position and propel yourself even further.

The principle of reciprocity and why it's crucial to organizational success. Developing relationships built on reciprocal trusts give your organization the ability to move forward immediately.

Lessons learned in college athletics and how to implement them at work and home for greater results. Sports provide many parallels to life and business. The lessons of team sports translate to professional success.

Skills any individual can put into practice with simple collaboration.

Strategies for increasing engagement within a group. More interaction and communication enables the group to begin working in sync to greater degrees.

Insights on becoming a more effective leader, mentor, spouse, and parent.

Advice to begin your journey toward a more balanced, engaged, and in sync life.
Read the book. Find excellence now.
Praise for Working in Sync: 
"Whit illustrates how as the leader of your team, you can create an environment of working in sync. Besides the extraordinary content, knowledge, and guidance imparted by Whit Working in Sync, I love the fact that he uses one of my favorite methods to teach us leadership lessons: storytelling. Working in Sync imparts the stories of leaders who in addition to their stories, provide insights and inspiration that you'll be able to use in your own leadership situation. You'll learn tools for communication, motivating employees, and several different perspectives on leadership and success." --Marshall Goldsmith, author of the New York Time bestseller MOJO: How to Get It, How to Keep It, How to Get It Back If You Lose It
Product Details for Working in Sync:
Publisher : UNKNO (May 23, 2013)

Language : English

Hardcover : 192 pages

ISBN-10 : 1612060366

ISBN-13 : 978-1612060361

Item Weight : 11 ounces

Subject : Sports Coaching, Entrepreneurship, Leadership & Motivation
---